Nedeľný SeMinár: Shackleton, Burberry, Hyundai. Tri reklamy, ktoré musíte poznať
Pavol Minár - Stratégie – 02.06.2017
"HĽADAJÚ SA MUŽI na hazardnú cestu, nízka mzda, krutá zima, dlhé mesiace úplnej temnoty, stále nebezpečenstvo, bezpečný návrat pochybný, sláva a uznanie v prípade úspechu."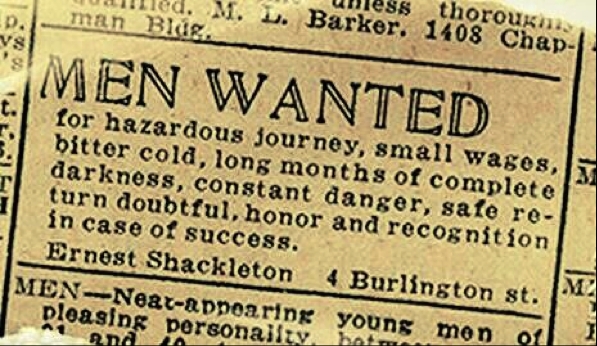 ​
Tento regrutačný inzerát pred antarktickou expedíciou je skvelou ukážkou insightovej reklamy: enumeráciou negatívnych benefitov v skutočnosti rozpráva príbeh o úžasnom dobrodružstve, ktoré však nie je pre každého, lebo je len pre skutočných mužov a len skutoční muži sú cieľovou skupinou potenciálnych účastníkov polárnej výpravy. Dnešným jazykom by sme si túto stratégiu mohli nazvať egocentrickou (prihovára sa mužskému egu), exkluzívnou (v zmysle opak inkluzívnej, teda "nie pre všetkých") a tribalizačnou (spomedzi mužov vyčleňuje iba skupinu tých najodvážnejších).
Julian Watkins v The 100 Greatest Advertisements píše, že inzerát sa objavil v londýnskych novinách okolo roku 1900 a vyvolal obrovský záujem – údajne sa prihlásilo niekoľko tisíc mužov (dnešný jazykom by sme povedali, že response rate bol enormný). Niektoré zdroje (napr. Shackletonove biografie) uvádzajú, že inzerát bol publikovaný v roku 1913 pred Shackletonovou imperiálnou Trans-Antarktickou expedíciou z rokov 1914 – 1916, ktorá je známa aj ako Endurance Expedition.
Vo svojom seriáli o dejinách reklamy však Campaign spochybňuje samotnú existenciu tohto inzerátu a napr. Smithonian píše, že napriek viacerým výzvam, že ten, kto objaví jeho originálne publikovanie, získa finančnú odmenu, sa to zatiaľ nikomu nepodarilo. Faktom však je, že Julian Watkins vo svojej vplyvnej knihe inzerát Ernesta Shackletona umiestnil v stovke najlepších reklám všetkých čias na úplne prvé miesto, čím ho spravil nesmrteľným – aspoň teda pre tých, ktorí majú radi dejiny reklamy. (Len pre úplnosť si povedzme, že na prvé miesto sa Shackleton u Watkinsa dostal preto, lebo The 100 Greatest Advertisements uvádza reklamy v časovom slede a Watkins píše, že ide o reklamu z obdobia okolo roku 1900).
Imperiálna Trans-Antarktická expedícia alebo Endurance Expedition bola neúspešná. Ako dopadla a čo sa stalo s Ernestom Shackletonom a jeho mužmi, vám neprezradím, aby som vás neobral o pôžitok z dvoch krásnych reklám, ktoré s touto témou pracujú. Sú to skutočné majstrovské diela prekračujúce rámec reklamy.
Na konci roku 2016 značka Burberry zverejnila The Tale of Thomas Burberry. Reklama tu dosahuje takých kvalít, až sa zdá, že ide o trailer k biografickému filmu o zakladateľovi značky. V skutočnosti je to krásny príspevok do reklamného žánru "founder's story." A veľmi dôležitú úlohu v tomto príbehu má aj Ernest Shackleton.
V apríli tohto roku Hyundai spustil dychberúci branded content Shackleton's Return, ktorý neúspešnú expedíciu po viac ako 100 rokoch úspešne uskutočnil. A pozrite sa nielen na to, ako ju uskutočnil, ale najmä s kým ju uskutočnil.
Projekt Shackleton's Return má aj svoju vlastnú stránku.
Úžasné, krásne, fantastické. Nemám dostatočne veľkú slovnú zásobu, aby som vyjadril, ako mám rád práve tieto tri reklamy z dnešného SeMinára. A som si istý, že Burberry aj Hyundai budú s týmito projektami úspešné na celosvetových reklamných súťažiach a festivaloch. Veľmi im to želám.