SeMinár: Štve vás, že iní bohatnú?
Pavol Minár - Stratégie – 26.06.2017
O súčasnom svete rôzni ekonómovia (napr. Thomas Piketty, Erik Brynjolfsson, Andrew McAfee, Anthony Atkinson apod.) hovoria, že podiel práce a kapitálu na tvorbe bohatstva sa vychýlil v prospech kapitálu (peňazí) do takej miery, ktorá je podobná stavu pred prvou svetovou vojnou. To znamená, že dnes, rovnako ako vtedy, sa bohatne viac z vlastníctva peňazí a ich zhodnocovania, než z práce.
Práve toto je dôvod, prečo tí najbohatší (či už ide o 5%, 1%, alebo dokonca 1 percentil z jedného percenta tých najbohatších ľudí), ktorí majú naakumulovaný kapitál, stále viac bohatnú a zvyšuje sa ich podiel na celkovom bohatstve krajín, prípadne sveta.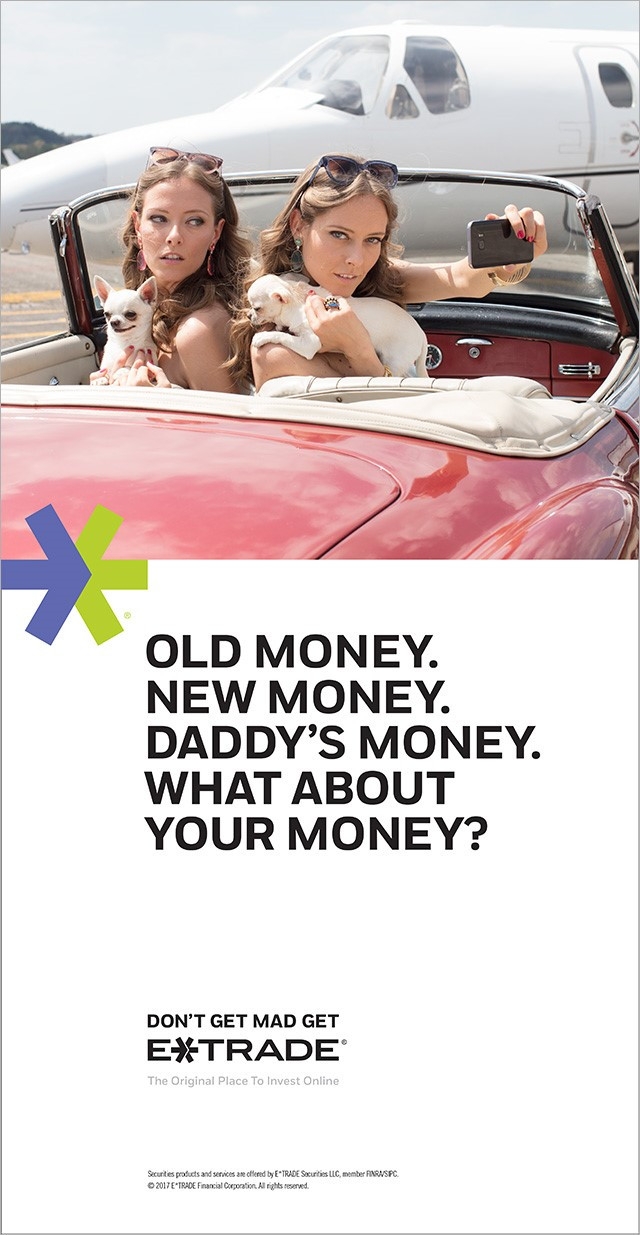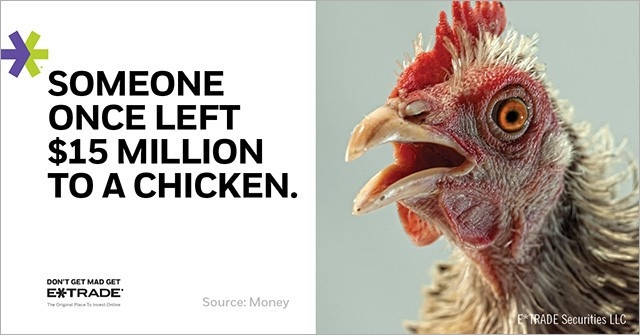 ​A práve na frustrácii 99% ľudí voči tomu 1% najbohatších je postavená kampaň E*Trade:
"Prvá trieda existuje preto, aby vám pripomenula, že vy v prvej triede nie ste."
"Čím ťažšie pracuješ, o to krajšiu dovolenku… bude mať tvoj šéf."
"Najhlúpejší chalan na strednej práve získal jachtu."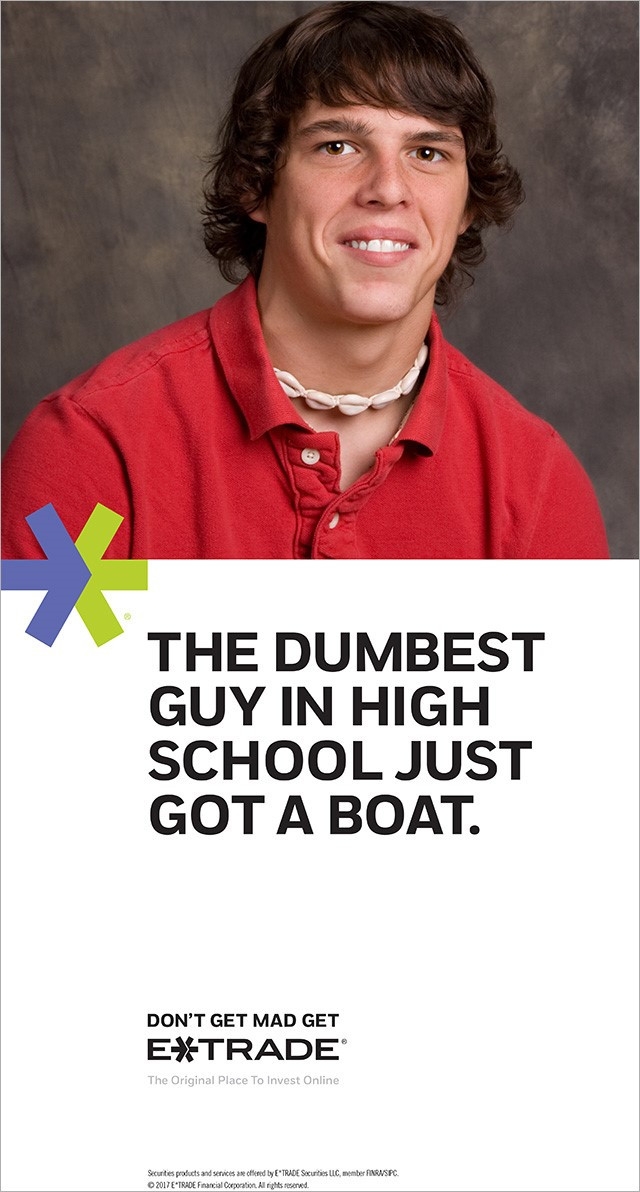 ​Ak sa ľudia pri týchto myšlienkach idú zblázniť alebo sa ich zmocňuje frustrácia, prípadne zúrivosť, E*Trade im radí: "Don't get mad. Get E*Trade – the original place to invest online."
Investovanie je tak v kampani E*Trade nielen činiteľom duševného zdravia, ale aj možnosťou získania vstupenky do klubu tých finančne najúspešnejších. Je to zaujímavá stratégia: online investovanie totiž významovo a naratívne (príbehovo) preberá postupy inej kategórie – lotériových hier. Práve tie sa v reklame často opierajú o príbeh zmeny v ľudskom živote, keď je výhra v lotérii tým, čo ľuďom umožní zbohatnúť, prestať pracovať alebo inak zásadne zmeniť život.
E*Trade s touto témou pracuje inovatívne: ak si v reklamách na lotérie užívajú sladký život výhercovia (aj v slovenskej reklame na lotérie bohatý človek – výherca brázdi morské vlny na veľkom člno-jachte), E*Trade ukazuje "tých druhých," bohatých a bohatnúcich. To "oni" sa majú dobre.
"Nám ostatným" E*Trade nesľubuje bohatstvo, "len" nás nabáda, aby sme sa z toho, že "oni" sa majú dobre, nezbláznili a investovali. Že výsledkom investovania cez E*Trade bude zbohatnutie, to nám nehovorí E*Trade, ale my si to na základe týchto reklamných príbehov domýšľame. Je to nepochybne odvážna stratégia a jej kontroverznosť (okrem komunikačného efektu, že s E*Trade investovaním sa dá zbohatnúť, napríklad aj významový základ, že v živote ide primárne o peniaze) nie je na škodu.
E*Trade má skúsenosť s kontroverznou reklamou. Počas Super Bowl v roku 2000 mal tento spot:
To si asi nevyžaduje komentár, preto len stručne: v jemne nepríčetnej ekonomickej atmosfére uprostred dot.com bubliny na prelome 20. a 21. storočia (nobelista Robert J. Shiller túto atmosféru nazýva "investičná horúčka" / "irrational exuberance"), vznikali veľmi zvláštne, divné a tak trochu zhulené reklamy. Pričinili sa o ne najmä dot.com firmy, ktoré súperili o "top of mind" v spontánnej znalosti. Preto robili výrazne divné a šokujúce reklamy. Vžil sa pre ne názov "oddvertising." A E*Trade Monkey sa stala jednou z ikonických reklám tohto špeciálneho reklamného žánru.
Rok sa s rokom stretol a v roku 2001 internetová bublina s rachotom spľasla. Mnohé dot.com firmy to neprežili – z "dot.comers" sa stali "dot.goers." A reklama E*Trade Monkey sa v roku 2001 vrátila. Tentoraz však o dosť pokornejšie.
Všimnite si, že ako šimpanz na koni prechádza spustnutým dot.com mestom (filmárska žánrová citácia westernu), všade sú logá internetových firiem. Sú to reálne firmy, ktoré v čase medzi rokom 2000 a 2001 zanikli. A špeciálna vec: opustené červené Porsche s parkovacou papučou a pokutovými upomienkami má poznávaciu značku "DOT.COMER."
Komunikačnú históriu a prítomnosť E*Trade sa určite oplatí študovať. Je to veľmi odvážna značka. A inšpiratívna.